Sectional Full View Industrial Doors
Sectional Full View Industrial Doors
Sectional industrial full view door (TLP-FV) panels – anodized aluminium frames glazed with double acrylic glass comes as a standard. Aluminium profiles can be painted any colour including the metallic finish. Optionally You can choose acrylic, Anti-Scratch, tinted, matt, polycarbonate or safety glass. The white, sandwich-type bottom panel is standard for sectional industrial full view doors.
Glazed or 'sandwich' filled bottom panel is optional.
Sectional full view thermo industrial doors
Sectional full view thermo industrial doors (TLP-FV Thermo) are produced up to 7 meters wide, 6 meters high, with standard double panes of acrylic glazing or double Anti-Scratch glazing.
Aluminum profiles with thermal break significantly upgrade the insulation value of panoramic sectional door panels.  Concerning possible measurements of doors, glazed with double Safety Glass — consult the factory.
Optional tinted glazing provides higher thermal value.
Sectional Full View Industrial Door Panels Design
Side and pass doors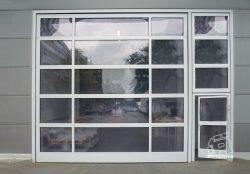 Pass doors can be made in full vision aluminum panels. Also in various combinations of them. Side doors are made according to the style and parameters of the panels, including aluminum frames and glazing.
Industrial Garage Door Operators
RYTERNA industrial doors are designed to work as manually, as well electrically operated. They are applicable to operators of most well-known manufacturers and provides you optimal operating comfort, efficiency, and safety.